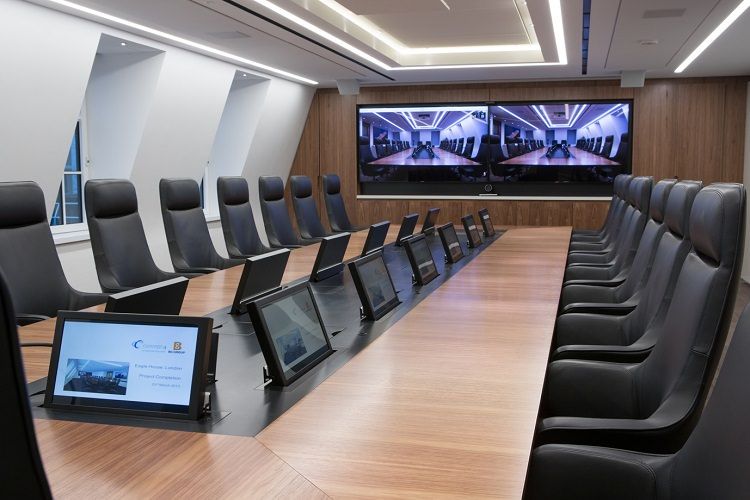 In today's world of crowded schedules and high travel costs, video conferencing is a solution that can save both time and money.
HELPING YOU MAKE BETTER CONNECTIONS
Whether you need to connect with someone down the street or across the globe, today's new video conferencing technologies can help you:
 Cut down on the high financial cost and physical toll of frequent travel Help teams in various locations collaborate while working together more effectively
 Cut back on your organization's impact on the environment
 Discuss shared information in real time
 Enhance decision making
 Improve training outcomes
 Realize fast return on your investment
and much more!

TODAY'S VIDEO CONFERENCING TECHNOLOGIES
With the help of today's new video conferencing technologies, Evolution Integrated Technology can design, integrate, and install a video conferencing system that is easy to use, displays brilliant images along with crystal clear audio, and has multiple presentation options - all designed to help you feel like you are right in the same room with your conferencing partners. Using innovations such as high-definition displays, surround sound, touch screen control, and multi-windowing, Evolution Integrated Technology can show you how you can soon be enjoying the benefits and value of a well-designed communication tool.
With today's new AV technologies, large displays can be used for a multitude of innovative collaboration, video conferencing, distance learning, web-casting events, audience interaction events, and presentations for sizeable audiences.HELPING YOU CONNECT WITH LARGE AUDIENCES
Whatever kind of large audience you are hoping to engage, a large venue system from Evolution Integrated Technology can help you: Draw in your audiences more effectively.
 Collaborate with audiences in other locations
 Make your large displays more interactive
 Keep your exhibits "fresh" and ever-changing
 Enhance your venue's versatility
and much more!TODAY'S LARGE VENUE TECHNOLOGIES
We provide complete large venue integration, installation, and 24 hour technical support for the unique needs of your facility. This includes year round entertainment environments such as museums, as well as large event settings for education and business. Evolution Integrated Technology's large venue experience includes displays for universities, businesses, and public audiences.
Interactive Technologies
Take control, interact directly with data, and speed comprehension with interaction and peripheral technologies from Evolution Integrated Technology.
BENEFITS
In any venue, with Evolution Integrated Technology's interaction technology you will be able to:
 Access and manipulate data faster,
 Intuitively interact with models and data for enhanced insight,
 View data from more perspectives,
 Share concepts better and faster with more people,
MULTI-WINDOWING
The ability to display multiple images simultaneously on one screen allows the review of large amounts of data or images more quickly and conveniently. Think of it as Picture-in-Picture with multiple "in-Pictures".
USES
 Instructors can display video, presentations, and computer simulations simultaneously
BENEFITS
 Enhance collaboration,
 Be able to easily make side-by-side comparisons,
 View larger amounts of widely varying information at the same time,